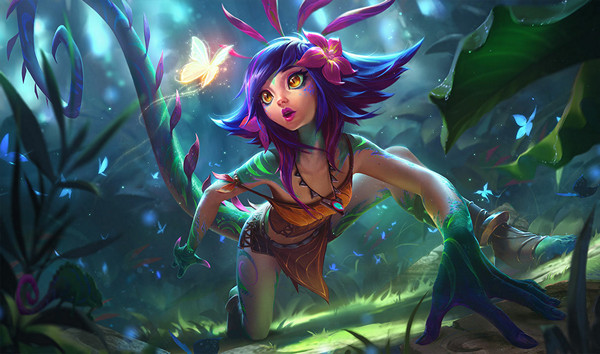 Neeko, the Curious Chamaleon
Everybody knows who she is: she's who you are looking at. How that person looks is entirely another matter. You see, it's not enough for Neeko to camouflage herself in different clothes and environments she also likes to take on the appearance of her allies. So that must be an ally, right? Because she's on your side. You wouldn't be fighting a doppelganger of an ally which Neeko is also impersonating. That would be confusing and dangerous. Better to take a look at Neeko's many guises. That ought to be less confusing, let's hope.

Winter Wonderland Neeko
| | |
| --- | --- |
| | |
Category:
Legacy
Price:
1350 RP
Concept:
Neeko as a snow-powered sorceress.
Model:
New model for Neeko.
Particles:
New particles for her abilities, auto-attack and recall.
Animations:
New recall animation.
Sounds:
New sounds for her abilities, auto-attack and recall.
Splash Art:
A blurry forest behind, the blizzard of noticeable, perhaps too clear, snowflakes has much to say in this regard but not everything; nearby branches are also blurred. The setting, then, is suitable but lacking a concrete message.
Neeko appears with a face of wonder at the icy spectacle. Her palm may also indicate that she's getting the hang of frost magic as well. Her portrayal is uneven: a cartoony body, a portion of her photochromatic tail and another portion which is diffuse like a draft. The cartoon style is the most suitable for a fantastic creature delving in magic. The colours are good but surfaces tend to be simple with only the use of light and shadow to make them more interesting. A good example is how plain her hair, skin and clothes look when fully under light or shade.
All in all, this is a serviceable splash art. The setting is a simple frame and the portrayal rather uneven with areas that look like they didn't receive the same polish as others. The presentation of Winter Wonderland Neeko is clear but it's not the best it could be and it's all there is.
Rating:
Conclusion:
Less reptilian that her classic counterpart, Winter Wonderland Neeko is rather straightforward. Her new model keeps the brief clothing instead of adding warm clothes or going for a more magical style. There are some floating shards of ice and her skin looks icy but it's clear that Classic Neeko is camouflaging herself and not adapting to a new environment. The new colour palette is distinct but limited to few hues so that the skin can look rather monochromatic. After all, there's mostly light blue versus dark blue with some golden highlights.
Particles make use of blue trails, snowflakes and, only in the ultimate, a new pattern which does stand out. The approach is direct: placing the snowflakes at the forefront and everywhere so that the design is consistent and also limited. It seems like there's too much reliance on the snowflakes without employing ice or snow as complements. Pop Blossom's new ground pattern is rather nice albeit similar to that employed in classic. In fact, the classic template is all too discernible across abilities. Auto-attacks are unremarkable. The saving grace is her most important ability: Inherent Glamor. The passive employs polished ice quite similar to the reflective surfaces used in K/DA skins. Borrowed idea aside, it makes for interesting ice clones; Sub-Zero would approve.
Sounds are made out of repetitive but appealing frosty crunching and delicate twinkling. While this makes abilities sound rather similar, except for the ultimate which is longer and so manages to be more elaborate. The result is a rather attractive aural landscape, it has to be admitted, but lacking in individual personality for each ability.
The new recall is a simple joke that has some relevance with regards to ice but little to the specific skin concept or Neeko's identity. It's fun for a while but the novelty, as with everything, wears thin with repetition and there's little left afterwards.
The conclusion is that Winter Wonderland Neeko is quite a straightforward skin with very strict designs for particles and sounds. They are appealing nonetheless but it seems like the theme is scattered alike over all abilities without any individuality. Still, the skin has its charm but one that is somewhat limited in scope.
Conclusion
For a release skin, Winter Wonderland Neeko is a, expectedly, straightforward skin. It takes Classic Neeko and changes her with an ice motif without an in-depth adaptation. This isn't only seen in the model but also in the strict design of particles and sounds. That doesn't prevent them from being appealing but it surely doesn't help with the individuality of abilities. The result is a skin with charm but with a limited scope in execution.